More about me
What do I do when I'm not working?


After many years living in Devon I moved, with my husband, to the windswept north Kent coast with its big skies, crashing waves and cracking beer.

When I'm not writing I love reading and walking (not at the same time). An ideal day out would consist of bird and other wildlife watching and a good walk finishing up at a pub that serves well kept real ale (aka cask beer) and proper, made-from-scratch food. Said pub should have a corner table where husband and I can tuck ourselves away, do the crossword, read our books and plot the downfall of the world's baddies.

I used to love live music and going to gigs but the smartphone era has changed things so much that it's rarely the exhilarating pleasure it used to be - as too often the audience is more focused on filming/photographing the band than dancing or watching them. I still go to see my favourite band, New Model Army, when I can though. I first saw them 30 years ago and they've been part of my life ever since. Other bands/artistes I enjoy include Karine Polwart, Show of Hands, Oysterband, The Alarm and Patti Smith.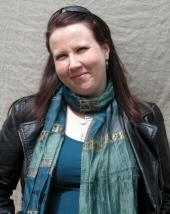 I am an experienced journalist and broadcaster, with a background in newspapers, radio and PR. I'm available for regular or occasional writing gigs; media consultancy & training; public speaking and radio & TV expert interviews/punditry.

My specialist subjects include (but aren't restricted to), birdwatching, nature, the environment, pubs and beer.

To discuss commissions, rates and availability contact me at: sophieatherton@gmx.com or on +44 (0)7946 112025.
Follow me on

Become a 'fan' on