More about me
What do I do when I'm not working?


I live in South Devon with my partner, his two daughters and a crazy border collie called Jake.

I like spending time with my friends, most of whom live miles away from me which means I spend hours on the motorway travelling to and from visiting them. I also spend time on the road following my favourite band New Model Army. I love them so much that I've driven the length and breadth of the UK to go to their gigs and also seen them in France, Germany, the Netherlands and Sweden. I'm adding the USA to the list this year.

It's not only New Model Army that I listen to. I've been going to gigs since I was 14 and growing up close to London meant I got to see a lot of bands, including the likes of the Ramones, Sisters of Mercy, The Waterboys, The Alarm, The Sugarcubes, Levellers and a ridiculous number of others that you've probably never heard of. My tastes are fairly diverse, but I'd say folk and indie are my two favourite genres.

Real ale is one of my other passions and I'm planning to make it a part of my professional life too. Visit my beer blog to find out more! When it's not appropriate to drink beer I like a cup of coffee, as long as it's not instant - which I believe to be a sin against hot beverages.

When I'm not gallivanting about the country (and beyond) I enjoy reading and listening to the radio. I like to wake up to Today on R4 and then listen a bit of Jeremy Vine on R2 around lunchtime. I'll tune into 6 Music if there is a digital radio to hand.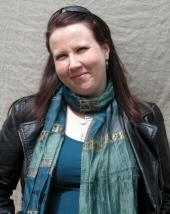 I am an experienced journalist and broadcaster, with a background in newspapers, radio and PR, and also an accredited beer sommelier! I am available for regular or occasional writing gigs, radio and TV appearances, PR consultancy and also to host beer tastings, talks and other similar events.
To discuss commissions, rates and availability contact me at: sophieatherton@btinternet.com or on +44 (0)7946 112025
Follow me on

Become a 'fan' on